How Excellent Customer Service Can Be Delivered Over Email But Without Gmail
I love helping people but I hated providing Customer Support with Gmail.
I've recently talked to dozens of online small businesses and it seems that at least half are still using email for customer support. I imagine most small business start this way. Happy Herbivore used email exclusively for over 5 years before we decided we need a better way to support our customers.
For our business, customer support got a lot more complicated when we began selling monthly subscriptions. Subscriptions are more involved than one off sales. We have a host of new issues that need support: credit card issues, email product deliver, switching plans, cancelations, refunds, most of which is handled by a custom software application. After a few months of helping customers out of my own work email account, I very much wanted to isolate customer support so that support emails didn't intermingle with my other work. You can hack together ways to turn email into a workflow system and support multiple customer support agents but there are many clear advantages to using professional tools over a kluge of hacks.
Our customers would rather email us for support than log into a website. I suspect this is the case for 99% of all online businesses. As a business thou, you need a system that streamlines replying to customers, organizes requests, tracks status, and can save you time.
After researching Help Desk software for a few hours, I realized that an email focused support system would be the best option for our users. I looked at desk.com, zendesk.com, user voice, fresh desk, and help scout. I had experience with desk.com, zendesk.com, and uservoice.com, as a customer seeking help from other businesses and I really disliked the experience. For example, the most painful and annoying experience for me occurred as a WPEngine.com customer where I have a login for their system and then need a separate account for their Zendesk support site. I still cringe whenever I see a site running any of these three systems.
I ultimately decided to trial HelpScout after seeing that Freshdesk seemed more focused on larger support teams. HelpScout wraps a simple interface around email and attaches only the most important customer service tools. My most painful aspect of using Gmail was how slow it was trying to quickly process email. The first day I used HelpScout it clear just how much gmail was slowing me down. HelpScout responds instantly because the interface is so minimal. Everyday we need to attach files and include canned responses but with Gmail I always had to edit the canned response to include the customers name. HelpScout's saved replies takes care of this because you can templatize your responses to use your customer name.
The most frustration reducing feature in HelpScout is their side bar. It's a combination of several different pieces of information. The side bar lists the customers name and email address. This bar also pulls in previous conversations which allows you to view past emails, and merge any duplicate emails send by the user. Having your customers' support history at your finger tips, helps you make more relevant and insightful responses. You can also add 3rd party application information into that side bar which is very valuable for seeing order information or linking directly to other web applications.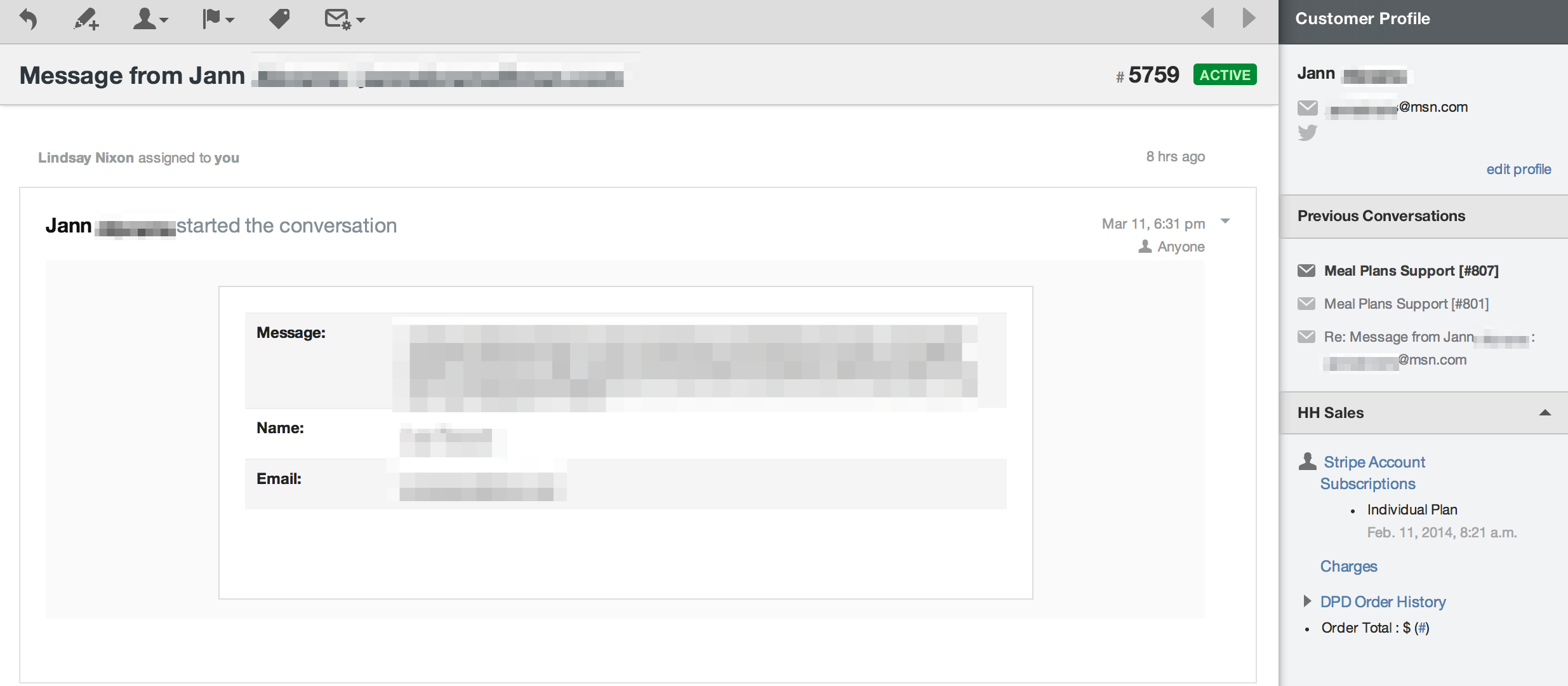 I wrote a custom app call HH Sales which you can see displayed in the sidebar. It that pulls our sales information from our two sales platforms Stripe and DPD. This allows use to see order history at a glance and also any active Stripe subscriptions.
If you use email for customer support serious consider giving it a try for free. If you have any questions about how specific questions feel free to email me scott(at)citadelgrad.co.
Comments powered by

Disqus